How d0es aquabion help the environment?
Salt going into the environment has to be bought regularly, has to be mined, processed and transported to its final destination. Aquabion addresses environmental concerns.
Water with high mineral content such as calcium and magnesium known as hard water is not harmful to your health but it does cause unwanted limescale to form which can be bad for the environment if left untreated. Allowing unwanted limescale to build up in your home can increase energy consumption as well as causing damage to your household appliances, bathroom accessories and plumbing system. There are various methods available to help manage limescale with some requiring more ongoing costs and maintenance than others.
A typical water softener filters out naturally occurring calcium and magnesium ions from hard water and replaces them with sodium ions. The resin used to capture positively charged hard water minerals becomes saturated with calcium and magnesium ions as they are exchanged for sodium ions which are then gradually released into the household water supply. Every few days the water softener will need to regenerate its resin by using a concentrated solution of saltwater.
Sodium Ions in Salt Water
A high concentration of sodium ions in the saltwater then remove the calcium and magnesium ions from the resin so they can be flushed away and it can once again become recharged with sodium ions. The unwanted salty water used to rinse away the naturally occurring minerals are then flushed away down the drain and the system resumes normal operation.
The salty water now containing chloride salt such as sodium chloride then travels through sewage systems which can have a poor effect on aquatic life when discharged into lakes, rivers and oceans. This is a big concern in areas that are already suffering from a high concentration of salt because of road salt procedures and agricultural runoff. Some parts of the world such as California have even banned the use of salt-based water softeners for this very reason. As water softeners regenerate they consume many tons of salt every year. Salt needs to be sourced, mined, processed and transported to a wholesaler before it can end up in its final destination. A homeowner will need to purchase salt regularly as running out means the water softener will stop functioning and you will revert back to having hard water. The amount of salt needed to maintain your system will depend on both the hardness of your water and the volume of water being used on a daily basis. On average salt needed to keep your system in working order could cost around £70 per year.
How much freshwater do water softeners waste per year?
Water softeners waste around 120 gallons of water a year. As well as having a negative effect on the environment water softeners can lead to an overuse of water supply. The system uses saltwater to flush away calcium and magnesium ions on a regular basis in a process known as regeneration. During this process, sodium and chloride ions are flushed down the drain into sewage systems which flows into lakes, rivers and oceans. As a water softener regenerates it also consumes many thousands of litres of freshwater every year.
Water Softeners and Fresh Water
The amount of freshwater used each time a water softener regenerates could vary depending on both the hardness of your water and the volume of water being used. The regeneration process could use between 20 – 25 gallons of water each time although applications do vary making it quite difficult to give an accurate figure. How often a water softener generates could depend on its settings. Water softeners can be set to regeneration using either a time-based interval or flow rate measurement. Used properly a water softener could regenerate up to 2 or 3 times each week. If your water supply is metered this would certainly increase your water bill by around 10% as it will cost you money to flush away unused minerals. A faulty water softener can cause excessive freshwater waste as some may regenerate more frequently than is needed.
South East England is currently under serious water stress as classed by the Environment Agency, meaning we are short in freshwater supply and there is a big concern over the amount of water available for the increasing population. In South England, there is less rainfall than the rest of England and so have the lowest amount of water per person. It will no doubt experience great pressures in the future due to increasing demand. Anything that saves water is good as demand is only due to increase as the population grows and we see climate change effect have a negative impact on our water availability.
Aquabion is 99% recyclable
AQUABION does not use salt or consume wastewater and it also stops limescale forming so has environmental benefits without a negative impact. Your AQUABION is also 99% recyclable and can be returned to us for reconditioning when you replace it for a new one. The unit is engineered in Germany to a high standard which contributes towards performance but also makes it possible for units to be reconditioned back at the factory in Düsseldorf where they can be refurbished. This reduces our carbon footprint so we can offer a small discount on your newly purchased replacement unit. Your old unit is then returned to us and goes into a recycle programme where it can be machined, refurbished and reused.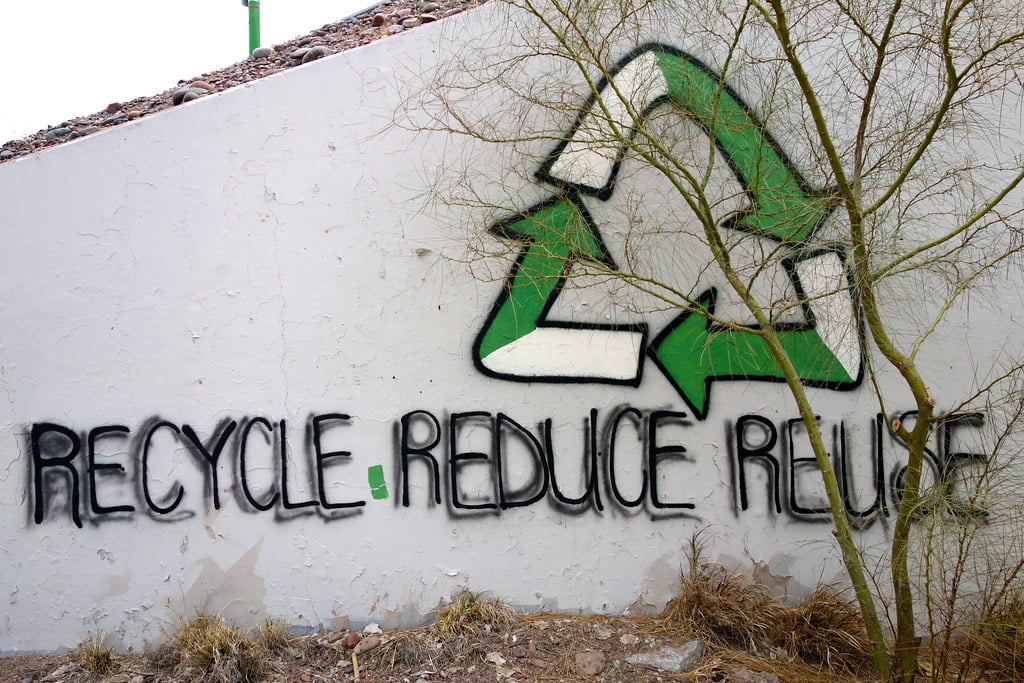 Less cleaning chemicals used is good for the environment
Most household cleaners are made from harsh chemicals that are not just harmful to humans but also animals and plants in the environment. When using harsh cleaning chemicals to clean your home they are eventually rinsed down the drain. The water then flows into sewage systems to wastewater treatment facilities where some but not all contaminants are removed before making its way back into rivers lakes and oceans. As some contaminants remain in the water it allows them to build up and have a negative impact on wildlife.
Aquabion and the environment – No salt, no regeneration, no waste. AQUABION is a chemical-free fully recyclable water treatment system allowing you to tackle the negatives of hard water without impacting the environment. AQUABION transforms limescale so it becomes negatively charged which means only a thin soft layer of scale can form but won't build up thereafter. The newly formed scale does not stick as before and can easily be managed by wiping the surface with a damp cloth. As a result, you will spend less on cleaning chemicals and make time for the things you enjoy instead of spending it in the bathroom scrubbing away hard water deposits with harsh cleaning chemicals which can contribute towards chronic respiratory problems, allergic reactions and headaches. Luckily calcium carbonate is easily dissolved using a range of mild acids. As limescale is formed by natural and organic minerals it can be managed with a range of natural organic solutions. Citrus fruit such as lemon juice work well and will leave a pleasant smell behind as opposed to harsh chemical cleaners.
Why not take a look at our AQUABION water conditioners today www.aquabion-uk.com