Wondering how to cope with hard water and limescale? Eczema, showers and boilers can all be affected by hard water and limescale, but what can you do to try and handle or lessen the effects around the home? Here, we discuss three key areas that are affected by hard water and what measures you can take.
Eczema
This can be much worse in hard water. There is a study running at the moment to try and access if there is a benefit to using a water softener or not. One irritant of eczema is chemical (particularly perfume), my son's eczema is very sensitive to this. We found it was best to make sure the washing machine used extra water in the rinse cycles, and to use non perfumed powder. Since installing an aquabion we reduced the amount of powder we used, which of course means there is less chemicals to get rid of in the first place!
Shower screen
Shower screens are something you really need to keep on top of. Otherwise it will take a lot of elbow grease to get it clear again. You could buy a new door from: www.showerguardglass.com but that is a bit drastic. Just make sure your cleaner has some sort of acid in it to dissolve the limescale, or you can buy a simple DIY screw on aquabion which will react with calcium (which causes limescale) so that it won't react with the glass! Some very minor soft scale will form BUT it will wipe off without chemicals! Please note, you don't need a dedicated shower aquabion if you have a household one, and that the shower aquabion's don't work very well if your shower has low flow rates.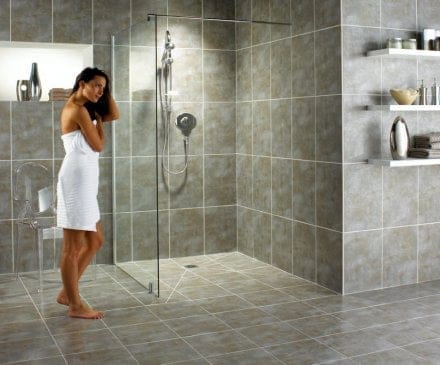 Combination boilers
Only a plumber can descale your combination boiler, so what is needed is something to stop the scale building up? Well, you can fit an effective water softener or water conditioner (Aquabion), or combination boiler inhibitor like 'combi care', which must be replaced every year.
If you are thinking of buying a new boiler you must think carefully about which boiler to get and ask your plumber about how hard water will effect your boiler. I would recommend you get a standard boiler and unvented tank. You might gulp at the price, but it will last for years, and give you a great showering experience.
WASHING MACHINES
'Washing machines live longer with Calgon'. This statement is probably quite true, however, your washing powder does give your machine some limited protection. It is very important not to use too much powder as this can cause your machine to break down prematurely. If you do choose to use Calgon, do work out how much it will cost you over 5-6 years. You might be surprised that it will cost you about the same as a quality washing machine.
We sell a dedicated washing machine Aquabion which is very easy to install and stops limescale effecting your machine. Just screw it on before the hose, no tools needed!
DISHWASHERS
It is important that your dishwasher is setup correctly for your hard water levels. First, you must find out how hard your water is. To do this, simply contact your water company and ask them. The manual will tell you how to change your dishwasher settings to the correct level. Our dishwasher Aquabion has been tested by Calgon.
SINKS, BASINS AND SANITARY WARE
Regular cleaning is all that should be required. Your cleaning chemicals need to be formulated for hard water areas. E-cloths are also a great help. If you have an Aquabion, all you need is an e-cloth and detergent to easily remove any limescale. If the limescale has been left and got out of hand, then a more powerful cleaner, as well as time, will be needed.
Find out more about the Aquabion.