All across the UK there are hard water areas and soft water areas. Around 60% of the UK is classed as having hard to very hard water.
Hard water is water that has a higher mineral content than that of soft water. While hard water does cause limescale, there are also benefits. Hard water contains higher levels of magnesium and calcium which is good for our diet. Softened water on the other hand, contains added sodium, which isn't necessarily good for our diet.
People will generally see the effects of hard water in their home due to scaled kettles, taps, pipes and potentially, the premature breakdown of boilers, washing machines and dishwashers.
When is Water Classed as Hard?
We often class hard water areas as anything above 150ppm. However, after conducting a recent extensive survey, we have found that some water heaters still have scaling problems at around 120ppm.
But where are the hard water areas and what areas have naturally soft water? Knowing this may help you decide whether or not you should protect yourself and your home from the negative effects that hard water brings.
Hard Water Area Map
Take a look at our map below. It details the areas that have soft, moderately soft, slightly hard, moderately hard and very hard water areas.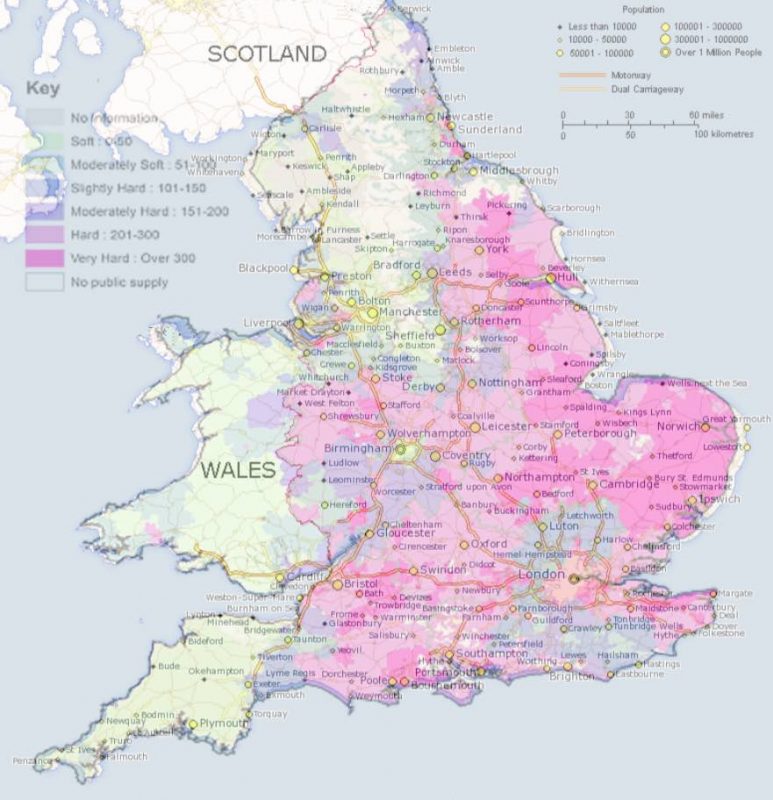 Hard Water in London
London's water is hard. This means that it has a high level of calcium and magnesium compounds, causing limescale. Why is Hard water found in areas like London and Kent? Because it has high levels of chalk and limestone geology.
Aquabion Water Conditioner – A Great Alternative to a Softener
Aquabion doesn't soften your water so you can still reap the benefits of hard water. An Aquabion created a non-adhering limescale that simply wipes away very easily and therefore will not cause hard limescale to form and affect your appliances. Hard water isn't necessarily a bad thing. That's why conditioning devices are becoming more popular. They do more and they improve the overall quality of the water.